I love Christmas and can't believe it has come and gone again so quickly.
The next few days will be spent getting things back in order and cleaning up around here.
I wish you all a wonderful New Year filled with big dreams!
It's going to be a busy and great year for our family!
Here are five of my top viewed posts from 2011!
Thank you for stopping in and leaving comments, I have enjoyed my first year blogging and look forward to growing and learning many new things in the year to come.
You continue to inspire me and I appreciate you!
The trash to treasure chair I found on the side of the road..amazing what some paint can do!
My Pottery Barn Sign Knockoff was second...
My vintage linen pillows made from napkins I found for a steal
Fourth was this childs armoire that took many hours of sanding and stripping but Wow did she turn out to be a beauty! She has since moved on to a new home..
Lastly was the pantry makeover I finished in my last home.
I look forward to sharing some new projects, ideas and inspiration in the coming year,
Happy New Year my friends!!
I have joined the party at: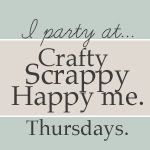 Debbie-debbiedoos.blogspot.com